Child Custody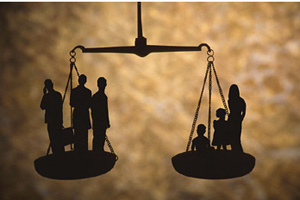 Our goal is to take care of our clients and their families. We fight diligently and hard when representing parents in child custody proceedings. When a divorce includes custody or visitation questions, your attorney should give you guidance so you can establish a stable environment for your children and reduce the stress that divorce creates.
In the State of Florida, the presumption is for the parties to have joint legal custody. In Joint Legal Custody, both mom and dad have the right to be part of the decision-making process on important matters.
As your legal counsel, we will help you work out a parenting plan that is in the best interests of your child. Whether you are married, divorced, in a domestic partnership or are an unmarried parent, will are on your side to protect and establish your parental rights.
Sole Legal Custody is very rare in Florida and is considered only if one party has had absolutely no involvement with the child, is a serious felon, mentally impaired, or does not desire any legal custody rights. The default in Florida is for both parents to have joint legal custody.
Without the thorough review of your divorce settlement agreement by a skilled divorce attorney, you may sacrifice your own best interests, intentionally or unintentionally. Benefit from our many years of experience that Steven Hair has to offer. Call us to schedule your consultation today.
A growing trend in Florida is to give both parents shared physical custody of the child. Both parents basically have a similar amount of time with the child. However, it is possible that one parent could receive primary physical custody of the child, in which case that parent has a greater amount of time than the non-custodial parent. It is important for any parent to understand the differences between joint physical custody and one parent having primary physical custody. Attorney Steven Hair is very much aware of these differences and the implications they can have on each parent and the child.
If there is no agreement to give one parent primary physical custody, then a hearing in court is required in order to determine what custodial arrangement is in the best interest of the child.
Child custody cases require that both parents attend a Court-mandated class, "Coping with Divorce" prior to the divorce becoming final. Allocation of tax deductions, timeshare/visitation schedules and parenting plan details must also be resolved. If both parents cannot agree to any or all of these items, then the Court will decide these issues.
There is no single structure for parenting and custody that works for all families. Steven Hair has many years of experience working with families to design creative solutions to custody matters through litigation or mediation. We can help you find a solution that is in the best interest of your children.